Michael DeLand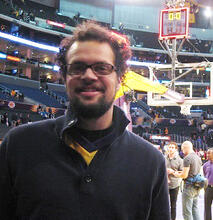 Postdoctoral Associate, Urban Ethnography Project (UEP)
Areas of Interest:
Urban Sociology; Racial and Ethnic Relations; Social Ecology; Ethnography; Law and Deviance; Sport; Sociology of Publics; Theory.
Address:
204 Prospect Street, New Haven, CT 06511-8907
---
Michael DeLand holds a doctorate in sociology from UCLA.  He is currently developing his dissertation research into a book manuscript entitled The Ocean Run: An Ethnography of Integration on a Public Park Basketball Court.  Based on four years of ethnographic fieldwork and historical research in Los Angeles, this book examines the emergence and patterning of an informal park basketball game that continually integrates men from vastly different social worlds and racial and ethnic backgrounds.  Michael reveals how historical contingencies of coastal development and neighborhood change, the diverse ways that players fit the scene into their lives, and situated interaction practices at the park contribute to the scene's presence, stability, and character.  By weaving together historical, ethnographic, and interactionist data Michael seeks a naturalistic understanding of public place integration as it is lived on the ground.  In addition to this project Michael maintains broader research interests in public space, urban change, and ethnographic methods.  In a series of papers-in-progress he shows how ethnography is uniquely situated to generate theoretically generalizable knowledge about the public sphere while rejecting dualistic depictions of public and private life.  Michael is deeply interested in and inspired by phenomenological and pragmatist theories of publics, interaction, and embodiment.
Publications
Michael DeLand (Forthcoming) (2015). "The Ocean Run: Stage, Cast, and Performance in a Public Park Basketball Scene" Journal of Contemporary Ethnography.
Michael DeLand (Forthcoming) (2015). "Elijah Anderson" in Koch, R. and Latham, A. (eds) Key Thinkers on Cities. London: Sage.
Michael DeLand. (2013). "Basketball in the Key of Law: The significance of disputing in pick-up basketball". Law & Society Review, 47:3, pp 653-685.
Michael DeLand. (2012). "Suspending Narrative Engagements: The Case of Pick-up Basketball". The ANNALS of the American Academy of Political and Social Science Vol 642, July 2012.