Denise Lim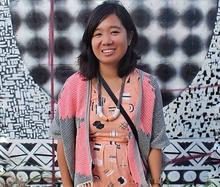 Education:
M.A. African Studies (Yale University)
B.A. English and Sociology, minor in Africana Studies (Bryn Mawr College)
Areas of Interest:
Postcolonial sociology; African urban studies; African cultural studies; Sociology of Art; Sociology of Literature
Dissertation:
Excavating Palimpsests in Ponte City
Denise Lim has extensive experience in writing, teaching, and curating scholarship on Africa for both academic and general audiences. Spanning over 14 years, Denise's travels to southern Africa have resulted in a diverse range of interdisciplinary research projects, including HIV/AIDS prevention education in rural Malawi and South Africa, the sociopolitical construction of African literature in South African universities, the social role of multimedia art in exploring trauma and landscape in postcolonial Namibia, and the use of photography to document the embodied practices of African-initiated religious groups in Southern Africa.
Denise's doctoral dissertation explores a Brutalist residential tower in Johannesburg called Ponte City. Originally developed as a bastion of white privilege, luxury, and global aspiration during apartheid, Ponte has since retained the mythological reputation of harboring socially deviant populations submerged in lives of crime, illicit activity, and urban decay. Collaborating with a diverse team of visual artists, urban architects, and web designers, Denise analyzes a vast collection of multimedia forms of data with which she explores the building's rich geological, architectural, and urban heritage. These include the building's art archive, architectural design and layout, bureaucratic documents, and material artifacts. Denise is committed to developing decolonial methods of inquiry that highlight the importance of Africanist scholarship in an increasingly globalizing world. She is also passionate about unlocking the potential that digital scholarship and data curation has in making historically-neglected scholarship accessible to the general public.
Publications
Lim, Denise and Sumayya Vally. (Forthcoming). "Diasporic Entanglements (working title)" in Conversations Across Place, edited by Nicola Brandt and Frances Whorrall-Campbell. Berlin, Germany: The Green Box.
Lim, Denise L. (Forthcoming). "The Aesthetic and Spatial Politics of Ponte City" in Designing Apartheid, edited by Federico Freschi, Farieda Nazier, and Jane Venis. Dunedin, New Zealand: Otago Polytechnic Press
2018. "What the Landscape Recalls: Articulating Scales of Violence in Landscape Trauma in Namibia." ART AFRICA, February 8. 
2018. "Quiet Images of the Zionist Christian Church." City Press, July 8, 12–12.