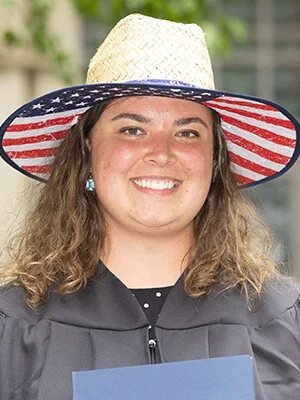 Undergraduate
Student Awards and Recognition
The James Andrew Haas Prize is a awarded each year to that senior whose breadth of intellectual achievement, strength of character, and fundamental humanity shall be adjudged by the faculty to have provided leadership for his or her fellow students, inspiring in them a love of learning and concern for others.
Julia Hontaruk-Levko of Branford College graduates cum laude with distinction in her major, Sociology (Intensive). Dedicated to gender equity and human rights, Julia has combined her academic pursuits with a rich record of service. She has served as the initial undergraduate director of the Lowenstein International Human Rights Project at the Law School, as a European Studies Undergraduate Fellow at the MacMillan Center, and as a policy intern with the City of New Haven. Earlier this year, she was the recipient of the Roosevelt L. Thompson Prize, awarded by the Council of Heads of College for service to the college and the community.
Julia's commitment to inclusion has left its mark: as head aide in the Branford College Office, she has been integral to our community's recovery from the pandemic. As part of Matriculate at Yale, she has supported students around the U.S. to apply to college, developing remote programming for underserved communities. In her leadership of the Yale Slavic Chorus, she has uplifted the voices of a diverse group of singers, on and off the stage. She has been a tireless advocate for those affected by the war in Ukraine, and an educator on the conflict's most complex questions.
For her outstanding academic achievements and her impressive record of public service, Yale College is proud to bestow the James Andrew Haas Memorial Prize upon Julia Hontaruk-Levko.