Alex DiBranco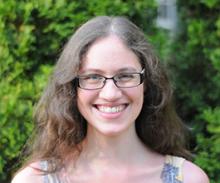 Education:
B.A. Dartmouth College, English (Creative Writing, High Honors), Minor in Government, cum laude
M.A., M.Phil, Yale University
Areas of Interest:
Social movements, religion, organizations, gender, right-wing studies, politics, philanthropy
Dissertation:
Development of the New Right Movement Infrastructure
---
Alex DiBranco is currently studying how the New Right in the 1970s to 1990s built a sustainable movement infrastructure to realign the U.S. political spectrum, drawing on archival materials and a unique database of conservative foundation grants. Related projects include the role of anti-Catholicism and Catholic leadership in the New Right and the policy implications of conservative philanthropic practices. She is also working on a separate theoretical project, looking at contemporary misogynist ideology and how it advances the notion that male supremacism should be studied as a similar phenomenon to white supremacism and anti-Semitism.
Prior to matriculating at Yale, Alex worked as the Communications Director for Political Research Associates, and as an Editor and Senior Organizer for Change.org.
Publications
DiBranco, Alex (2015). Who Speaks for Conservative Women? 'Feminisms' for Life, Liberty, and Politics, The Public Eye 82: 16-20. https://www.politicalresearch.org/2015/06/09/who-speaks-for-conservative…
DiBranco, Alex (2016). Whole Woman's Health's Unexpected Win for Science, The Public Eye 88: 17-19. https://www.politicalresearch.org/2016/10/28/whole-womans-healths-unexpe…
DiBranco, Alex (2017). Mobilizing Misogyny, Political Research Associates, The Public Eye 89: 11-16. http://www.politicalresearch.org/2017/03/08/mobilizing-misogyny/
DiBranco, Alex (2017). "How to Change a Policy Agenda: Start 40 Years Ago," Lux et Data: ISPS Blog. https://isps.yale.edu/news/blog/2017/11/how-to-change-a-policy-agenda-st…
DiBranco, Alex (2018). "The Incel Rebellion," Political Research Associates. http://feature.politicalresearch.org/the-incel-rebellion