Huseyin Rasit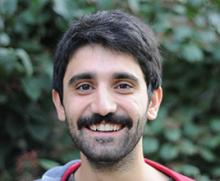 Education:
M.A. Political Science, Sabanci University
B.Sc. Computer Engineering, Bogazici University
Areas of Interest:
Political Sociology, Revolutions and Revolutionary Struggles, Middle East Studies, Kurdish political movements, Comparative Historical Sociology, Social Theory
Huseyin Rasit is a Ph.D.  Candidate in Sociology at Yale University.  His work is centered on topics of revolutionary struggles, state-formation, and ethnic conflict. In his dissertation, Huseyin examines diverse state-formation projects emerging out of political crises in Iraq and Syria.  Specifically, he attempts to explain why we observe projects as diverse as the Syrian Kurdish Revolution, Kurdish Regional Government in Iraq, and ISIS.
Huseyin's other interests include questions of ethnics, political ideologies, and social theory. 
Publications 
Rasit, Huseyin. 2017. "Not Another Story of Failed Liberation: Tensions in Bashur and Rojava in the Light of the Referendum." OpenDemocracy.