Huseyin Rasit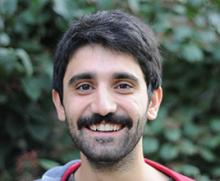 Education:
M.A. Political Science, Sabanci University
B.Sc. Computer Engineering, Bogazici University
Areas of Interest:
Revolutions and Revolutionary Movements, State-Building, Ideologies, Middle East Studies, Political Sociology, Comparative-Historical Sociology, Social Theory
Vita:
https://sociology.yale.edu/sites/default/files/huseyin_rasit_cv_0.pdf
Huseyin Rasit is a Ph.D. candidate in Sociology and a Fellow in International Security at the Belfer Center at Harvard Kennedy School, expecting to receive his degree in May 2021. His work is centered on revolutions, state-building, and ideologies.
In his dissertation, Huseyin examines three state-building projects emerging out of the connected political crises in Syria and Iraq in the early 21st century: Kurdistan-Syria, Kurdistan-Iraq, and the Islamic State. He investigates why such widely different formations have emerged out of the same political crucible, and argues that actors' ideological frameworks are the critical explanatory factor. The project draws upon over 40 in-depth interviews with civilians and political figures collected during fieldwork in Iraq, the United States, and Germany from 2016 to 2019, as well as a rich collection of original ideological documents.  
Huseyin's dissertation has been funded by Smith Richardson Foundation ISS Fellowship, DAAD Research Grant, and Yale MacMillan Center International Dissertation Fellowship. It has also been awarded the International Security Fellowship by the Belfer Center at Harvard Kennedy School. Drawing upon his dissertation data, Huseyin has published a peer-reviewed article in Globalizations and a book chapter in Kurdish Autonomy and U.S. Foreign Policy. Another article has recently received "revise and resubmit."
In addition to his dissertation, Huseyin is currently engaged in two projects. First, he is developing a project to shift the focus from the effects of ideologies to their formation and rise to prominence. Specifically, he aims to understand under what conditions movements and groups with different political orientations - from far left to far right, revolutionary to reformist, etc.- manage to rise to prominence. Second, with Kristin Plys of University of Toronto, he is developing a comparative study of the revolutionary movements in the Global South to understand the roots of their failures and legacies.
Huseyin also attaches much importance to teaching. In addition to working as a TA at different institutions since 2011, he has taught Social Theory and Political Sociology at Yale. He has also received the Yale Certificate of College Teaching.
Publications 
Rasit, Huseyin. 2020. "Competing Revolutionaries: Legitimacy and Leadership in Revolutionary Situations" – Revise and Resubmit
Rasit, Huseyin and Alexander Kolokotronis. 2020. "Decentralist Vanguards: Women's Autonomous Power and Left Convergence in Rojava." Globalizations 17(5):869-883.
Link: https://www.tandfonline.com/doi/full/10.1080/14747731.2020.1722498
Rasit, Huseyin. 2020. "Imperialism, Revolution, and the Desire to Lecture the Kurds: How Should We (Not) Analyze U.S.-Kurdish Relations." Pp. 225-41 in Kurdish Autonomy and U.S. Foreign Policy: Continuity and Change, edited by V. Eccarius-Kelly and M. M. Gunter. New York: Peter Lang.
Link: https://www.peterlang.com/view/9781433168048/html/ch21.xhtml
Rasit, Huseyin. 2017. "Not Another Story of Failed Liberation: Tensions in Bashur and Rojava in the Light of the Referendum," openDemocracy
Link: https://www.opendemocracy.net/en/north-africa-west-asia/not-another-story-of-failed-liberation-tensions-in-bashur-and-r/
Work in Progress
Rasit, Huseyin. "An Integrated Theory of Ideology" - Article
Rasit, Huseyin and Kristin Plys. "Anti-Imperialism, Past and Future: Revolutionary Movements in the Global South" – Book Manuscript, Equal Authorship