Kalisha Dessources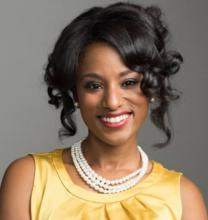 Education:
Cornell University, Bachelors of Science in Industrial and Labor Relations (2012)
University of Pennsylvania, Masters of Science in Education (2014)
Areas of Interest:
Urban Sociology, Racial Inequality, Social Policy, Educational Inequality, Juvenile Justice
Email:
kalisha.dessources@yale.edu
Kalisha Dessources is a PhD student in Sociology at Yale University, and a Dean's Emerging Scholar at the Graduate School of Arts and Science.  Her research interests lie at the intersection of race and gender, urban poverty, and social policy, with specific focus on the ways in which the education and justice systems produce inequality for youth.  Kalisha intends to explore school-to-confinement pathways, and the link between exclusionary school discipline and incarceration.  She is particularly interested in the role that (1) alternative education schools and (2) school resource officers play in school-to-confinement pathways. Outside of the scope of schools and justice, Kalisha is also interested in understanding the experiences of youth that have engaged with multiple systems (welfare system, foster care system, juvenile justice system), and the factors that lead to cross-systems engagement.  Kalisha is committed to an intersectional approach in her research—focusing on how youth of different racial and gender identities experience systems differently.
Before coming to Yale, Kalisha served three years as a political appointee in the Obama White House, most recently as policy advisor to the Council on Women and Girls.  There, she worked on policy issues pertaining to women and girls of color.  Kalisha also previously served as a math and science teacher in Philadelphia, and as the director of a philanthropic initiative across women's foundations.