Nick Kearns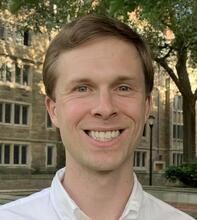 Education:
B.A., English (Summa Cum Laude), Amherst College, 2015
M.A., Sociology, Yale University, 2021
M.Phil., Sociology, Yale University, 2022
Areas of Interest:
Economic Marginality, Relocation, Fatherhood
Nick Kearns is a PhD candidate in Sociology at Yale University. He has studied how Puerto Rican men in Western Massachusetts have renegotiated their identities after moving away from various cities. In his dissertation, he has written about economic marginality, unemployment, and their experiences of fatherhood. He is also interested in pedagogy and high school teaching, which he hopes to pursue as a career.