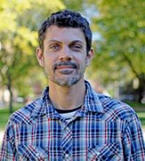 Todd Madigan
Ph.D. Yale University, sociology
M.A. San Francisco State University, English
B.A. San Jose State University, philosophy
Dissertation: The Rules of Meaning Making
Todd Madigan is in his fourth year as a visiting assistant professor of sociology at the University of North Carolina at Greensboro. Much of his research is an interdisciplinary exploration of how social narratives can both shape and shatter collective identity (with a special emphasis on racial/ethnic identity). Specifically, he has theorized what it might mean for a social group to be traumatized.
His teaching has included courses on social movements, political sociology, social theory, cultural sociology, and research methods, as well as foundational courses dealing more generally with race and ethnicity, inequality, and contemporary social problems. He has taught these courses to a racially and socio-economically diverse group of students in a variety of institutions, including MacDougall-Walker Correctional Institution (a maximum security state penitentiary in Connecticut), San Jose State University, and Gateway Community College.
His teaching and mentoring of both undergraduate and graduate students is informed by the ten years he spent engaged in social work at non-profit organizations providing services to homeless and otherwise marginalized communities, including five years as a Director at Sacred Heart Community Service.