Adriana Ceron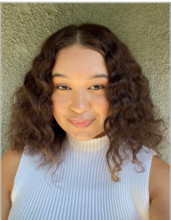 Education:
B.A. Sociology and Chicano/a-Latino/a Studies, Honors, Pitzer College (2018)
Areas of Interest:
International Migration; Immigrant Integration; Stratification and Inequality; Latinx Sociology, Mixed Methods
Adriana is a second-year Ph.D. student in the Department of Sociology and Fellow at the National Science Foundation (NSF) and the Yale Center for the Study of Race, Indigeneity, and Transnational Migration (RITM). Her scholarly interests include international migration, social stratification, and race and ethnicity. In particular, her research examines the incorporation of immigrants in the U.S. across two main areas. One line of work centers the incorporation and exclusion of Central American migrants by interrogating why youth and adults migrate and how their unique migration experiences shape their life outcomes once settled in the U.S. Her second line of work examines the educational outcomes of the children of immigrants.
Adriana received her B.A. in sociology with a minor in Chicano/a-Latino/a Studies from Pitzer College, where she was also a Mellon Mays Undergraduate Fellow. (MMUF). She is a First-Generation Low-Income (FGLI) student and welcomes the opportunity to connect with prospective PhD applicants who are FGLI/students of color.