Dana Hayward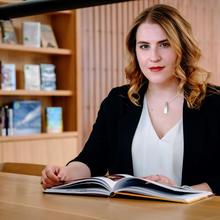 Education:
B.Soc.Sc. (summa cum laude) International Development and Globalization, University of Ottawa, 2008
M.A. Political Science, University of Ottawa, 2012
M.A. Sociology, Yale University, 2018
M.Phil. Sociology, Yale University, 2019
Areas of Interest:
Sociology of Law; Sociology of Sex and Gender; Sociology of Culture; Political Sociology; Comparative Historical Sociology; Research Design; Qualitative Methods
Dissertation:
Morality on the Ballot: The Cultural Implications of Contentious Legislation
My research explores the culture-shifting potential of the law - in other words, the power of the law to alter social norms and values, rather than simply setting and enforcing rules. However, it can be difficult to study the cultural impact of legislation empirically, as laws both shape and a shaped by their cultural contexts. In my work, I suggest that a comparative analysis of close votes offers a promising solution to this dilemma. Drawing on insights from quasi-experimental research design, I argue that legislative decisions that pass or fail by narrow margins allow for comparisons in which levels of cultural support for law reform are held constant. I look for cases in which the passage of legislation can essentially be considered a "treatment", and study the cultural implications of these laws. 
In my dissertation, I ask: How does legislative change affect the framing of moral issues? What effects does the passage of legislation have on framing - does defeated legislation have similar effects? How does the normative content of legislation shape its effect on framing - do laws that grant rights have similar effects as laws that restrict them? To answer these questions, I conduct a qualitative comparative-historical analysis of four narrowly approved or defeated citizens' initiatives that appeared on the ballot in the Western United States between 1990 and 1998. In each case, I compare how the issue was framed before, during, and after the approval or defeat of the measure, focusing particularly on media, political, and social movement discourses. I look specifically at legislation in the issue areas of physician-assisted death and parental notification of abortion, as these issues raise similar legal sociological, and ethical questions about bodily autonomy, informed consent, delegated authority, and the power of the state to regulate life and death. 
My broader research and teaching interests include the sociology of law, gender and sexuality, the sociology of culture, comparative-historical sociology, research design, and qualitative methods. I hold an M.A. and M.Phil. in Sociology from Yale, as well as an M.A. in Political Science and a B.Soc.Sc. (summa cum laude) in International Development and Globalization from the University of Ottawa. I am currently completing requirements for the Graduate Certificate in Women's, Gender, and Sexuality Studies, and the Certificate of College Teaching Preparation, and am a Junior Fellow at the Center for Cultural Sociology at Yale. For the 2019/20 academic year, I am also a Visiting Scholar at the Center for the Study of Law and Society at the University of California, Berkeley, School of Law.