Devin Zyaire Williams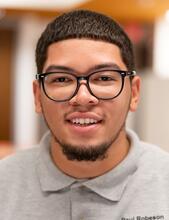 Education:
B.A. in Human Resource Management and Africana Studies, Rutgers University 2022
Areas of Interest:
Race & Ethnicity, Sociology of Education, Critical University Studies, Critical Race Theory, Racial (in)equity, Power Structures
Devin Zyaire Williams is a first year PhD student in the Departments of Sociology and African American Studies at Yale University, and a Graduate Fellow at the Yale Center for the study of Race, Indigeneity, and Transnational Migration (RITM). His research focuses on the relationship between race and power in an educational context, particularly in the university. For his undergraduate honors thesis, "Program, Practices, and Politics: Assessing the Inequities of the U.S. Higher Education System Through the Black Professoriate", Devin examined the inequitable practices and policies that shape the agency, mobility, and careers of Black Assistant and Black Associate Professors at Research 1 Universities. Furthermore, while completing his undergraduate coursework, he taught his own accredited course through the FIGS program titled, "Exploring Africana Studies", which centered various topics including diversity, equity, and inclusion; anti-blackness; and liberatory educational philosophies.