Kalfani Ture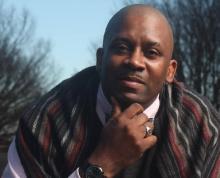 Areas of Interest:
Race, Place & Urban Crime; Law Enforcement & Urban Community Relations; Police Encounters of African American and Latino Males; Gentrification and Urban Redevelopment; Race and Ethnic Relations; Social Theory; and Ethnographic Methods & Urban Ethnography
BIOGRAPHY
K. Nyerere Ture` is a practicing urban ethnographer, who currently holds a Postdoctoral Associate position here in the Urban Ethnography Project. Ture` earned a BA in African/African American Studies and Criminal Justice at Rutgers, The State University of New Jersey and a MA in Applied Anthropology at Georgia State University in Atlanta, Georgia. Additionally, he holds a doctorate of philosophy degree from American University in Washington, D.C., with a focus on race, place, urban crime and urban ethnography. In between undergraduate and graduate school, he engaged in an informal participatory project of law enforcement agencies at the municipal, county and state level believing that as an aspiring ethnographer of crime and place, he could offer a more informed perspective and pedagogy on the American criminal justice system and racialize communities. As a result of his folk ethnographic undertaking, he was certified in basic law enforcement and sheriff deputy through a Georgia Peace Officer Standards and Training academy (Fulton County). He enjoyed a short tenure as a practicing police officer and jailer and with this professional experience, he provides invaluable insights into the wide range of police practices as well as a unique perspective on the licensing of law enforcement agencies to police and socially control communities and people of color (referred in his writing as non-western inferior others). Currently, he is interested in exploring the ethnographic encounters of law enforcement toward stigmatized and urban African Americans.
Building on his undergraduate and master level graduate research focus that explored the relationship between community crime and urban development, Ture's dissertation research examines the lived experiences of African American public housing residents, a stigmatized urban population caught in the throes of an urban renewal project that demonstrates the continued perpetuation of structural violence against marginal citizens and the racialization of crime. In this research crime was used as one important justification for urban displacement and redevelopment of public housing into private market based rental units. Urban planners, architects, economic developers, policy wonks along with local police agencies collaborated to carry forward a new urbanist agenda.
The particular site of Ture's doctoral research is one of the most historical African American neighborhoods within Washington, DC (WDC) and the largest and most ill-reputed public housing community in the nation's capital. This public housing community, formally named Barry Farm Public Dwellings by city officials and outsiders and referred locally and affectionately as the "Farms," is located east of the Anacostia River (EoR) - a river that forms an expansive separation between the WDC's majority African American communities from their more affluent and privileged counterparts on the mainland.
The Farms' community serves as a time capsule to which each segmented layer of time informs social science about the nexus between race and place and how citizenship is constituted and then re-constituted both racially and spatially. It also informs us on the operations of structural violence as deployed by the elite and political representatives of the state.
PUBLICATIONS
Journal Articles
2017    Ture, Kalfani and Gualtieri, Anthony. "Racialized Ghettos, Violence, And The Role of Anthropology." [Special Edition] "Baltimore and Beyond: Racialized Ghettos, Violence & The Role of Anthropology" (Eds.). Kalfani Ture and Anthony Gualtieri Transforming Anthropology  25(1): 3-10.
2016    Natasha C. Pratt-Harris, Michael M. Sinclair, Cynthia Barbara Bragg, Nicole R. Williams, Kalfani Nyerere Turé, Belinda Davis Smith, Isiah Marshall Jr., and Lawrence Brown. "Police-involved homicide of unarmed Black males: Observations by Black scholars in the midst of the April 2015 Baltimore uprising." Journal of Human Behavior in the Social Environment 26(3-4):377-389.
2014    Gregory Squires, Dominic Moulden, and Kalfani Turé. "Equitable Development Moves Forward in DC."  Social Policy: Organizing for Social & Economic Justice 44(2): 70-72.
Teaching Exercise
2011    Larson, Jeff A., William Tsitsos, and Kalfani Turé. "Presentation-of-Self Exercise." Class activity published in TRAILS: Teaching Resources and Innovations Library for Sociology. Washington, DC: American Sociological Association.  
Documentary         
2010    Expert witness/researcher for There Goes the Neighborhood, documentary film directed by Rebecca Kauffman, published and aired by Al-Jazeera English 9/2010.  Recipient of the National Association of Black Journalists Award for Best Documentary 2011.