Yvonne Frankfurth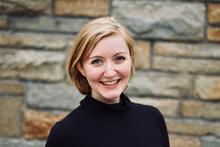 Yvonne received the competitive University of Cambridge ESRC Overseas Institutional Visit Award 2019, and the Monica Kornberg Memorial Fund for her stay at Yale University. 
Under the auspices of Rene Almeling at the Department of Sociology, Yale University, Yvonne is working on a publication about the decision-making processes of, and ethical conundrums faced by, Germans traveling abroad for egg donation to have a child. This publication forms part of her doctoral thesis, which is supervised by Professor Sarah Franklin, Deputy Chair of the Department of Sociology at the University of Cambridge. In her thesis, Yvonne explores the German Embryo Protection Act, specifically the social and ethical aspects of the legal prohibition of egg donation. Find more details and an updated list of publications on her research website ReproTravel (www.repro-travel.com). 
During her academic stay, Yvonne has successfully applied to be involved in relevant workshops, events and dinners with scholars from Science and Technology Studies (STS), Law and Social Anthropology, including Prof Sheila Jasanoff (Science and Technology Studies, Harvard University),  Prof Daniel Markovitz (Law, Yale University) and Prof Marcia Inhorn (Social Anthropology, Yale University),
Yvonne values hands-on social engagement and enjoys directly interacting with policy-makers to have an impact with her research outside academia. During her stay in the US, she was selected to act as a Youth Envoy to the 8th Economic and Social Research Council Forum at the United Nations Headquarters in New York, April 8-9, 2019, where she engaged with government representatives, policymakers and other stakeholders on the relevance of providing access to education about sexual and reproductive health. She has joined the annual Yale Entrepreneurial Society start-up trip to New York City, allowing her to pursue her interest in emerging technologies and to contribute with her own experience as a start-up founder of SympatMe (www.sympat.me) and initiator of the German fertility platform, Es klappt nicht (www.es-klappt-nicht.de).
 Contact: yvonne.frankfurth@yale.edu (Feb - Aug 2019)