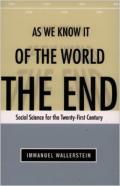 Minneapolis, MN: University of Minnesota Press.
---
This book is nothing short of a state-of-the-world address, delivered by a scholar uniquely suited to the task. Immanuel Wallerstein, one of the most prominent social scientists of our time, documents the profound transformations our world is undergoing. With these transformations, he argues, come equally profound changes in how we understand the world.
Wallerstein divides his work between an appraisal of significant recent events and a study of the shifts in thought influenced by those events. The book's first half reviews the major happenings of recent decades-the collapse of the Leninist states, the exhaustion of national liberation movements, the rise of East Asia, the challenges to national sovereignty, the dangers to the environment, the debates about national identity, and the marginalization of migrant populations. Wallersteinplaces these events and trends in the context of the changing modern world-system as a whole and identifies the historical choices they put before us.
The second half of the book takes up current issues in the world of knowledge-the vanishing faith in rationality, the scattering of knowledge activities, the denunciation of Eurocentrism, the questioning of the division of knowledge into science and humanities, and the relation of the search for the true and the search for the good. Wallerstein explores how these questions have arisen from larger social transformations, and why the traditional ways of framing such debates have become obstacles to resolving them. The End of the World As We Know It concludes with a crucial analysis of the momentous intellectual challenges to social science as we know it and suggests possible responses to them.