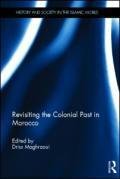 In Driss Maghraoui (Ed.), Revisiting the colonial past in Morocco (pp. 184-99). New York: Routledge.
---
Exploring the concept of 'colonial cultures,' this book analyses how these cultures both transformed, and were transformed by, their various societies. Challenging both the colonial vulgate, and the nationalist paradigm, Revisiting the Colonial Past in Morocco, examines the lesser known specificities of particular moments, practices and institutions in Morocco, with the aim of uncovering a 'new colonial history.'
By examining society on a micro-level, this book raises the profiles of the mass of Moroccans who were highly influential in the colonial period yet have been excluded from the historical record because of a lack of textual source material. Introducing social and cultural history, gender studies and literary criticism to the more traditional economic, political and military studies, the book promotes a more complex and nuanced understanding of Moroccan colonial history.
Employing new theoretical and methodological approaches, this volume encourages a re-assessment of existing work and promotes a more interdisciplinary approach to the colonial history of Morocco. Revisiting the Colonial Past in Morocco is a highly topical and useful addition to literature on the subject and will be of interest to students and scholars of History, Imperialism and more generally, Middle Eastern Studies.