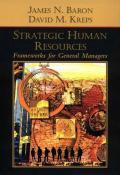 ---
A Truly Strategic Approach Geared to General Managers,Strategic Human Resources is an exciting new approach to human resource management. Rather than focusing the material on the needs of the HR manager or HR major, this conceptual text speaks to the general manager who needs to be strategically aware of HR issues.
This important new text was born out of Stanford's required HRM course for MBAs and further developed in Executive Education programs at Stanford and abroad. Chapters have already been tested by instructors at a number of other institutions, including Dartmouth's Tuck School, MIT's Sloan School, INSEAD, University of Chicago's Graduate School of Business, the Weatherhead School at Case Western Reserve, and North Carolina State.
Written by a sociologist and an economist, this book is truly integrative. It shows how economic, sociological, and psychological approaches to HRM complement one another, while staying firmly on the ground in terms of current practice and real-life examples.